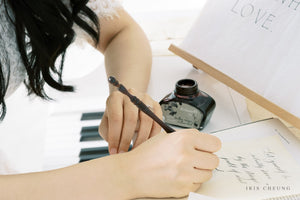 Art enables us to find ourselves and love ourselves at the same time.
-Thomas Merton (1915 - 1968), American Poet
CALLIGRAPHY CLASS
Strongly based in a classical calligraphy training, Sprink brings the systematic approach to any style of calligraphy you want to learn, traditional or modern.
No more guess work and write your first letter with confidence. Now.
See More
ART CLASS
From flourishing to painting, anything that adds glamour to your calligraphy work.
Designed for art lovers with little or no art foundation.
See More
INTRODUCTION TO MODERN CALLIGRAPHY
Many believe modern calligraphy means randomness, but it is not. In this class, students learn the framework of modern calligraphy, what makes the word beautiful, and how they can create their own modern style.
Class Details
FESTIVAL FLOURISHING
Our flourishing class often has a festival theme (such as Valentine's Day and Christmas). Students feel a great sense of achievement by completing their own artwork with very simple calligraphy pen strokes. The art piece is decorated in Sprink's signature element - crystals, which makes the card so special.
See Student's Work
FLORAL PAINTING
Designed to help students with little to no art background to feel the joy of painting, Sprink painting classes combines the use of simple calligraphy strokes with watercolour and breaks down the creative process into small, manageable steps.
See Student's Work